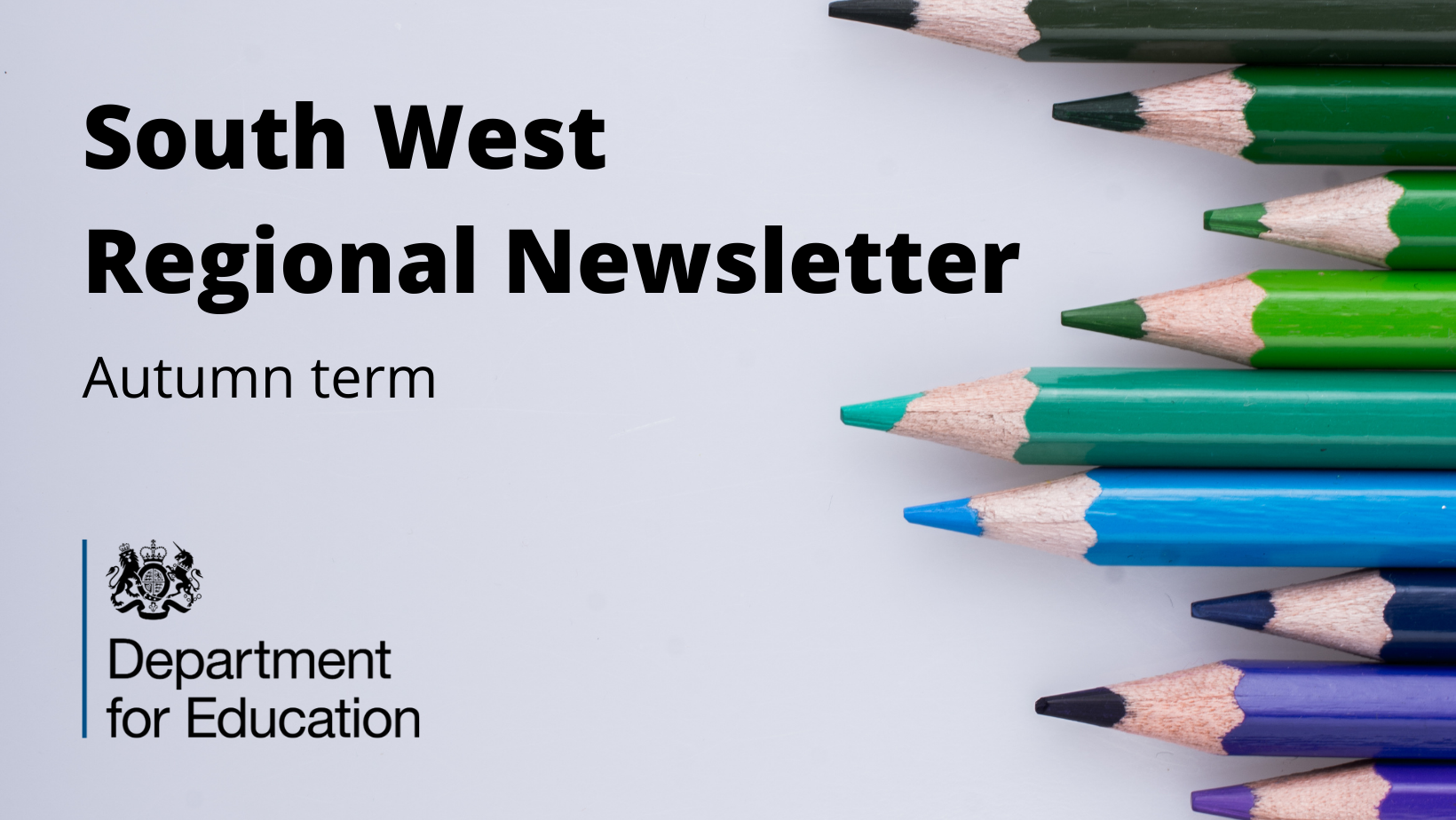 National news
Post-16 capacity fund open for bids
Trust CEO and chair induction programme
Analyse school performance (ASP)
Significant changes to funding agreements
Schools Commercial Team autumn webinars
Teaching and leadership support hubs
Trust and school improvement offer 2022 to 2023
New and improved agency supply framework
Music hub investment programme
Schools and Academies Show 2022
Local news
Working with the South West team
---
Introduction from Hannah Woodhouse
Dear Colleagues,

I hope that this new school year has started really well in schools bringing a buzz back to our work and lives after the long hot summer.

I've no doubt the year ahead will present challenges but am very confident of the determination and commitment in leaders in this region to seek solutions and continue to provide a safe and happy education for all children and learners.
Clearly there has been a lot of change nationally already this term; a new Prime Minister has been elected, Ministers have been appointed and we were saddened by the death of Her Majesty Queen Elizabeth II. I am continuously amazed by the way in which schools supported by trusts and LA services create a sense of stability and community in times of change. Thank you for your leadership. I am really looking forward to the year ahead and meeting some of you at the trust leaders' event in Taunton in a few weeks.
We look forward to working with you to support trusts and schools to develop further in the pursuit of improvement and a safe and enjoyable education for all children, especially those living in poverty in the region. If there is anything we can do to support you at any stage please contact us via This email address is being protected from spambots. You need JavaScript enabled to view it..

Hannah Woodhouse
South West Regional Director
---
Post-16 capacity fund open for bids
Bids are invited from eligible post-16 providers for capital funding to add extra capacity where there is a pressing need for places for 16–19-year-olds in their local area.
Providers can bid for a share of £140m to deliver projects creating additional capacity, ensuring there are enough places in their local area to manage the projected demographic increase in 16-19 learners.
Further information about the fund and how to apply can be found on GOV.UK. Applications close 11 November 2022. We encourage you to register on the application portal as soon as possible. The portal will be regularly updated with responses to frequently asked questions.
Trust CEO and chair induction programme
We are offering a short programme of events to support chief executive officers and chairs of trustees of academy trusts who are relatively new to their role. The programme will cover how DfE, Ofsted and ESFA work with academy trusts. You will also be introduced to contacts working within the regional director's office for your area, who will discuss local priorities.
Sessions available include:
the accountability framework for trusts, inspection and the role of Ofsted
understanding and monitoring educational performance and school improvement
the trust context and the role of the chair; the role of Regions Group and Advisory Board
The events are led by DfE and supported by experts from the sector. They will run between 14 November and 7 December.
Register your interest in attending and we will send details of the events including dates, times and the MS Teams link for each session relevant to your role. The programme is free to attend.
Analyse school performance (ASP)
Analyse school performance (formally known as RAISEonline) is a service that provides pupil and school level data across all key stages as well as some other data such as absence, exclusion etc. We are currently looking at how the service can be improved.
If you would like to help us shape the service to suit your needs, give us a better understanding of how the system is currently used, and identify any areas that can be improved, then we want to talk with you in a user research capacity. Please contact This email address is being protected from spambots. You need JavaScript enabled to view it. to arrange a confidential research session.
Thank you to the many schools who are already compliant with the statutory guidance on the cost of school uniforms which came into force this month.
If your school is not yet compliant, check the requirements for schools section for actions you need to take now.
If you need to run a competitive process to set up a new contract, you should have the contract in place by December 2022, working with suppliers to agree a sensible transition period. This will mean that new uniforms can be available for summer 2023.
All schools should be fully compliant with the guidance by summer 2023. Some schools might be tied into existing contracts with suppliers and may not be able to meet some elements of the guidance until their contract is due for renewal, which may be later.
Significant changes to funding agreements
A reminder to academy trusts that any proposal for a significant change must be submitted in advance and follow the required process. Significant changes need to be agreed by the relevant regional director to avoid being in breach of the academy trust funding agreement. This includes changes requested by the local authority.
Please see the guidance on making significant changes for further information.
Changes can include:
expansion
merging with another academy
changing the school's age range
changing the school's faith
Introduction to Whole School SEND
Whole School SEND (WSS) is a consortium of charities, schools and organisations. They are committed to helping children and young people with special educational needs and/or disabilities (SEND), or learning differences to reach their full potential. The WSS websiteprovides the sector with free, easy access to high quality information, resources and continuous professional development to support a whole school approach to inclusion.
Leaders, teachers and classroom staff are encouraged to log in to the Whole School SEND website, to access evidence-informed resources for schools, academies and Trusts including the following:
The SEND review guide suite - a series of self-evaluation tools to support school leaders in understanding and improving inclusive culture. This self-review can be further supported by commissioning an Expert SEND Review
In partnership with the Sea View Trust, WSS has created SEND career pathways for the school workforce - a curated directory of free training and resource materials to support continuous professional development for school staff. This is a tool that can be used as part of the appraisal/ performance review cycle
The Teacher Handbook: SEND - a useful resource for teachers to embed inclusive practice in their classrooms, written for school leaders and all levels of a class-based staff across the mainstream and specialist sectors.
Schools Commercial Team - autumn term webinar schedule now open for bookings
The Schools Commercial Team will be hosting free webinars this term to help those who buy for schools save time, buy compliantly, and get great value.
Teaching and leadership support from DfE funded hubs
DfE funds a number of hubs to support schools and colleges to develop specific areas of teaching and leadership. A hub is a strong school or partnership of schools and other organisations that help other schools develop and improve their practice.The diagram gives you an overview of the support available and contains links to find out how to access support from each hub.
Find out how school leaders can get support from other schools to improve a specific area of teaching or leadership.
Trust and school improvement offer (TSI) 2022 to 2023
If your school or trust is eligible for improvement support, or becomes eligible because of a new Ofsted rating, DfE will contact you. Your school or trust will be offered up to 10 days of support and advice from a system leader. This will usually be a CEO of a strong MAT, supported by their wider team, or a national leader of education. They will help your leadership team identify and implement sustainable improvements within the school and support the building of relationships with a multi-academy trust where appropriate.
In exceptional circumstances, support can be given through the TSI offer to schools or trusts that feel they would benefit but do not meet the eligibility criteria. This email address is being protected from spambots. You need JavaScript enabled to view it. if your school or trust does not meet the criteria but you feel you would benefit from the offer.
New and improved agency supply framework
The Crown Commercial Service supply teachers and temporary staffing framework has been approved by DfE and is now available on Find a Framework. The new framework is open to all schools.
If you need support with hiring supply teachers and temporary staffing, This email address is being protected from spambots. You need JavaScript enabled to view it..
Music hub investment programme
The Department for Education and Department for Digital, Culture, Media and Sport recently published The Power of Music to Change Lives: a National Plan for Music Education (NPME). It sets out the government's vision for music education to 2030.
As part of the NPME, Arts Council England will run an investment process inviting applications for the role of music hub lead organisation. These organisations will receive government funding to co-ordinate music hub partnerships ensuring there are fantastic, accessible music education experiences for children and young people.
We are encouraging multi-academy trusts to consider applying for these roles. To register your interest and for more information, please visit the Arts Council England's webpage.
Schools and Academies Show 2022
Come and speak to us at he Schools and Academies Show in Birmingham on 17 November in the DfE theatre. The keynote speaker is Baroness Barran and she will be speaking about:
the journey to 2030
what the white paper targets will mean for schools
how the SEND review will change practice in schools
---
Working with the South West team
South West Regions Group have a zero-tolerance approach towards any bullying, harassment, or discriminatory behaviour.Bullying, harassment and discrimination are in direct conflict with the Civil Service Code and its values of honesty, objectivity, impartiality and integrity. We are striving to create an atmosphere where everyone is treated fairly and where negative and unwanted behaviours are challenged.South West Regions Group along with the wider DfE, need your help in order to make this aspiration a reality. Thank you for your consideration.